Over the last week, you probably have received a larger than normal amount of emails. With the challenges this year has brought, many businesses are using their mailing lists to get out messages about the sales that they have. Whether it be Black Friday or Cyber Monday or just end of year sales, email can be an effective way to drive traffic to your website.
Principles
Much like your web site, you should have textual content that is accented and reinforced by images. Your email campaigns should not be purely images with the only textual content being the subject line and unsubscribe and legal notices at the bottom of the email.
Email Open Rates
Generally speaking, email open rates are relatively low. There are a number of factors to what determines whether an email was opened. Whether the email recipient views the message in a preview pane or opens the email in a separate window, it may not be counted as being opened.
Most mailing list software has some hidden image or pixel that, when loaded, identifies back to the mailing list software that the email had been opened. This is dependent on:
The email recipient to open the email
Show images
Images and Emails
Most email clients do not show images by default. How many times have you seen a notification in your email that 'Images are not displayed' or 'Load images' or something along those lines?
So, you not only need to have a compelling subject line that will urge the recipient to open the email, but there must also be some textual content that compels the recipient to display the images. If the body of your email is only image(s), there is little incentive to display the image. The user will trash the email moving on to the next one.
Recent Examples
Here are some examples of emails that are just using images without any textual content that is compelling to get a user to display the images.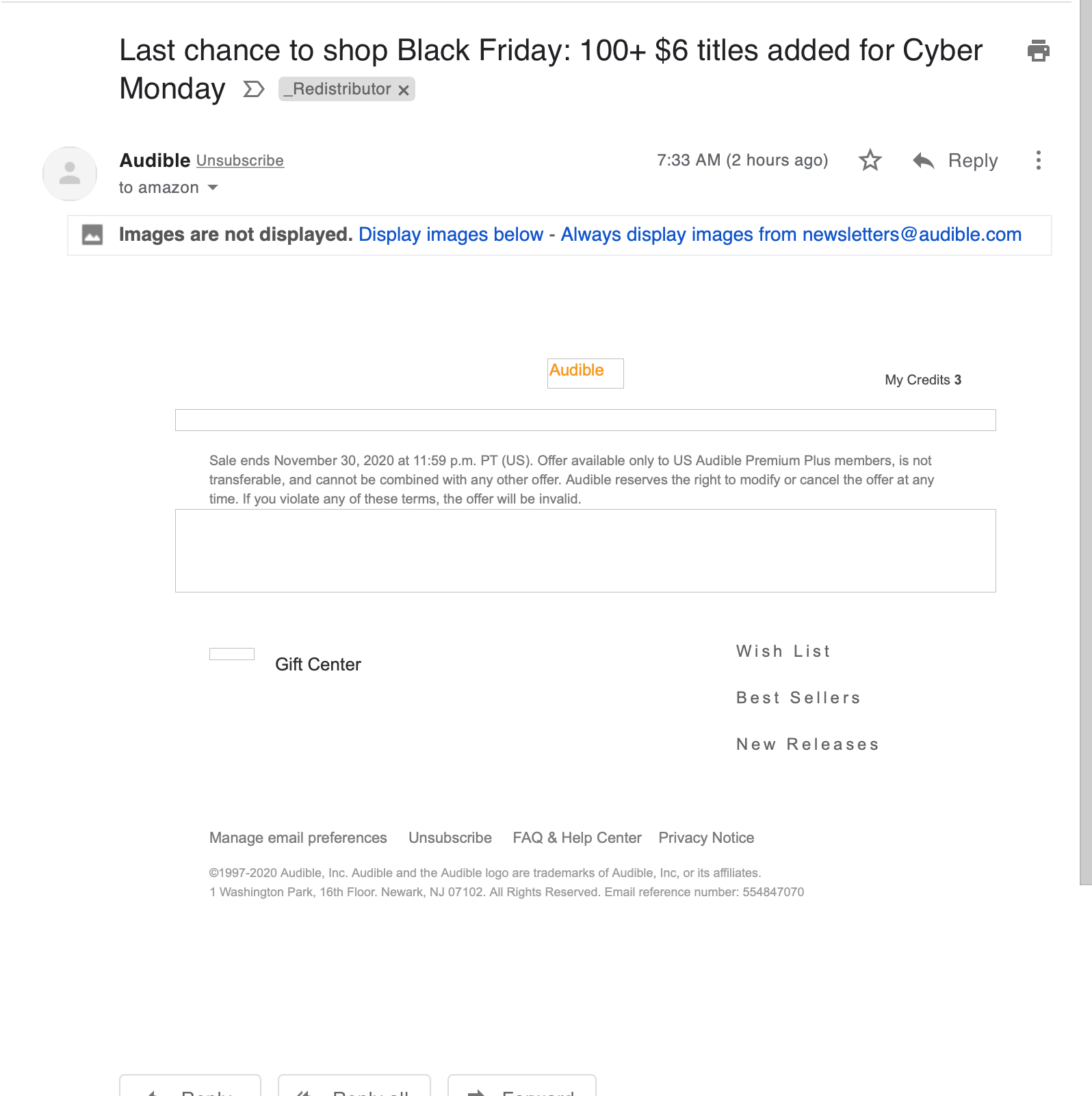 For Audible, this is not a Black Friday/Cyber Monday trend. Audible does this all the time.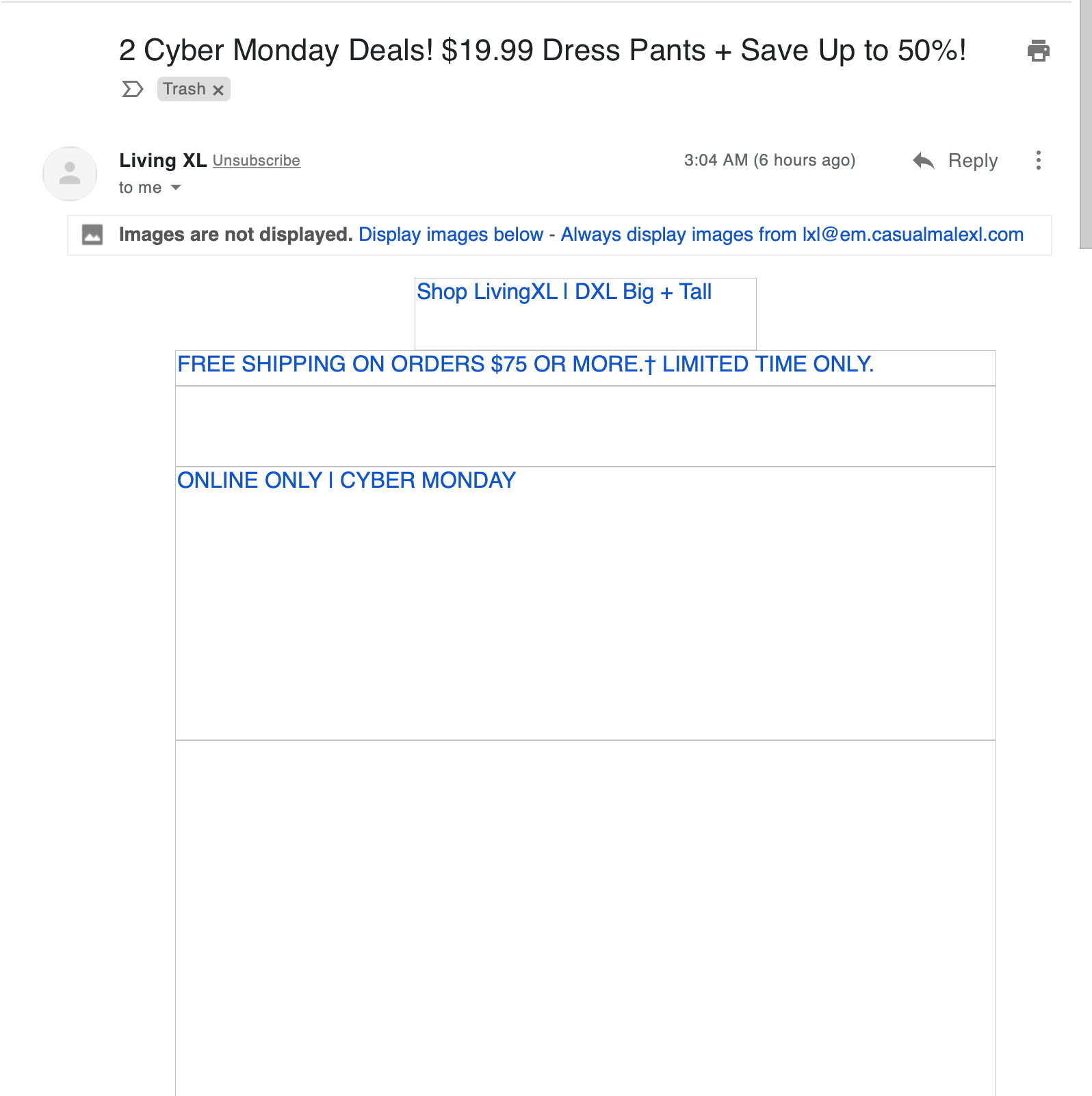 At least Living XL uses ALT text on some of their image placements to give a marginal clue as to what the image is related to.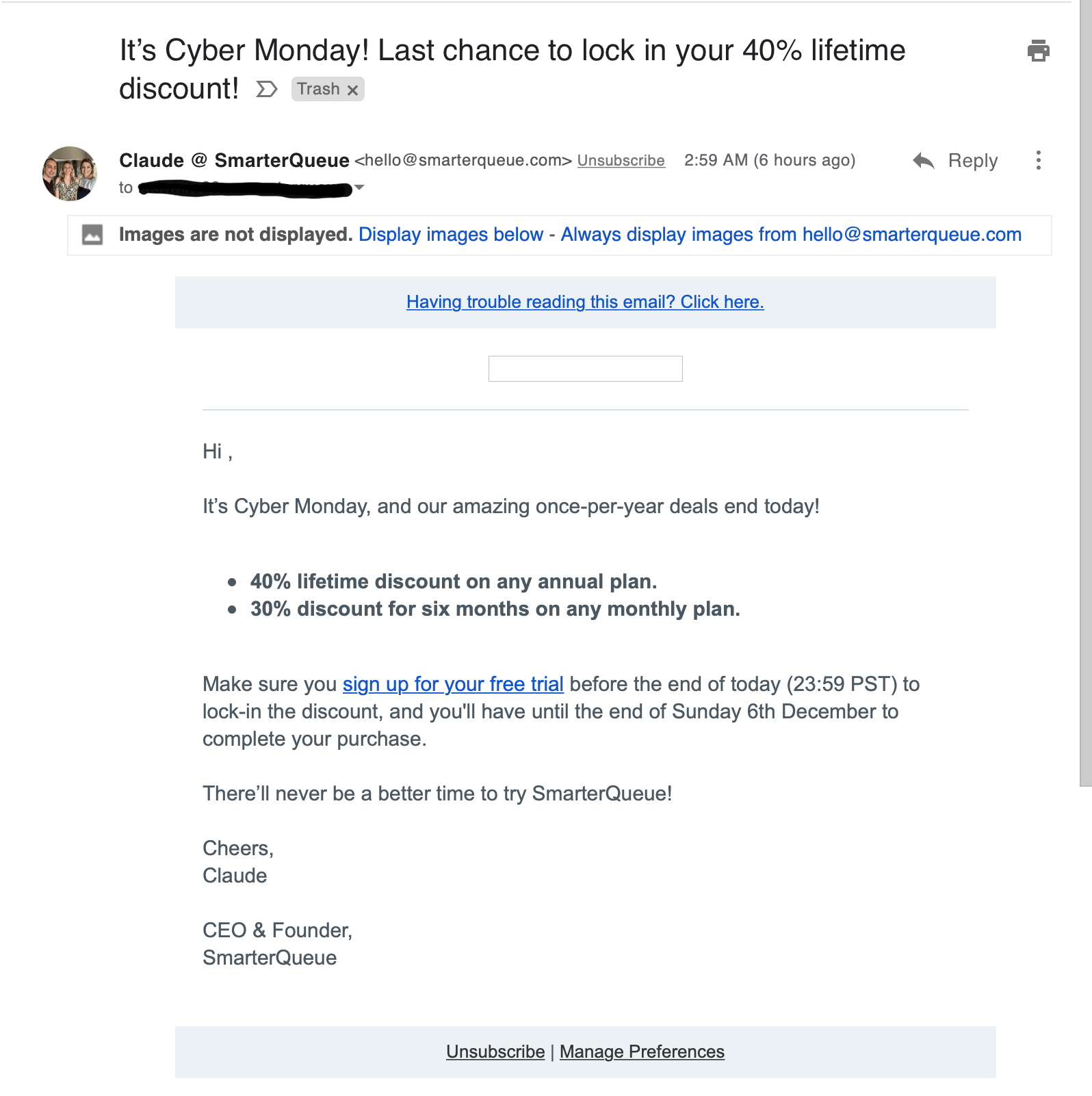 This example from SmarterQueue is making a few assumptions.
You remember what SmarterQueue does.
If you remember what they do, you know that they have a product that you need only because they offer a discount.
The discounts, regardless of the price point, are impressive enough to want you to subscribe for something.
There is nothing compelling in the copy of this email that would want you to display the images. Other than for the purposes of this blog post, I displayed the images.
Yeah, needed to display the images only to see their logo. Which, for me, did not bring any more recollection as to what they do.
Better Examples
Here are a couple examples where there is textual content that conveys the message and the images reinforce the message.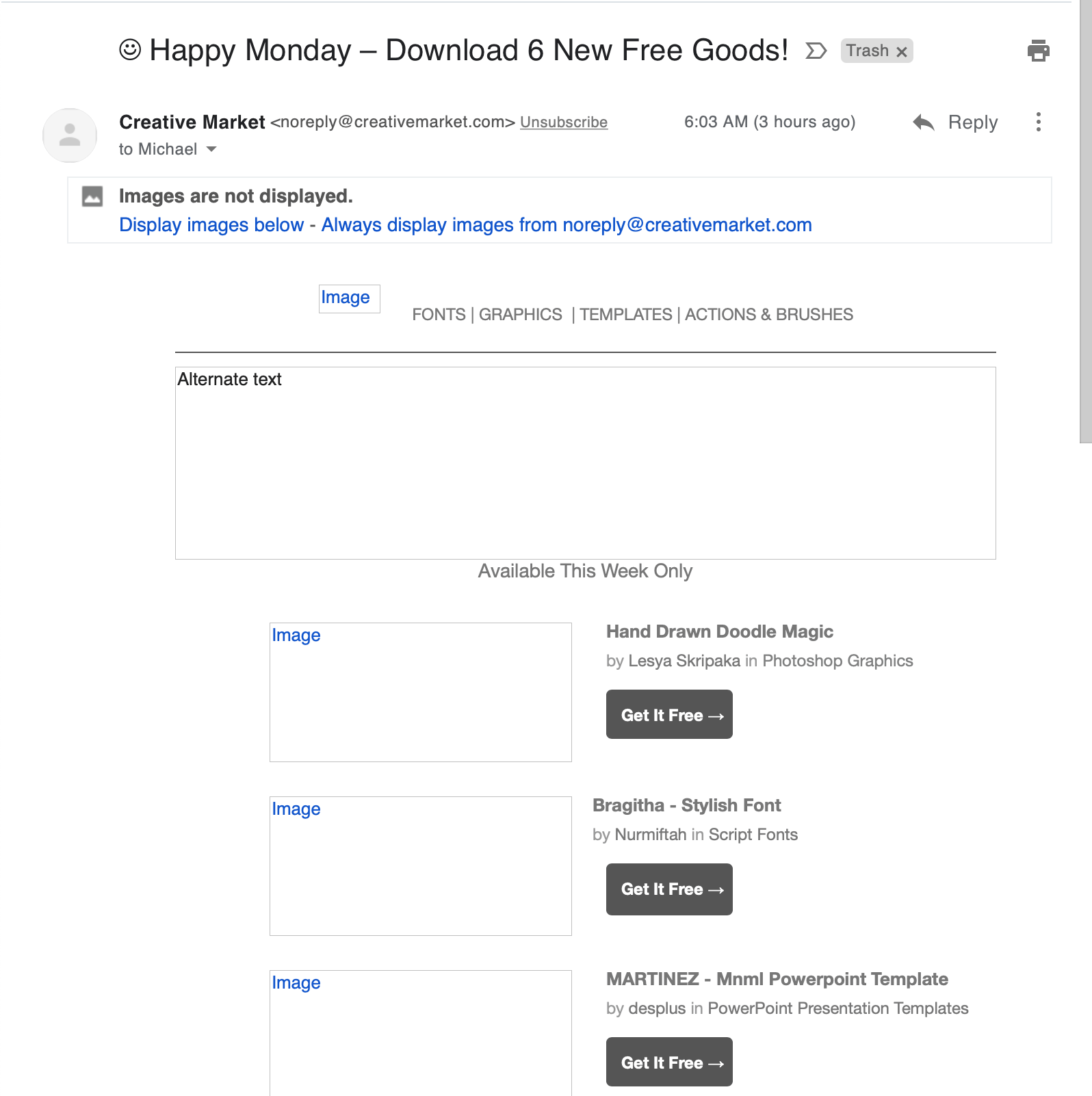 This email from Creative Market needs the images to support the textual content. They are selling items that require that visual context. As an aside, I find it humorous that they use 'Alternate text' as their ALT text in the main banner image.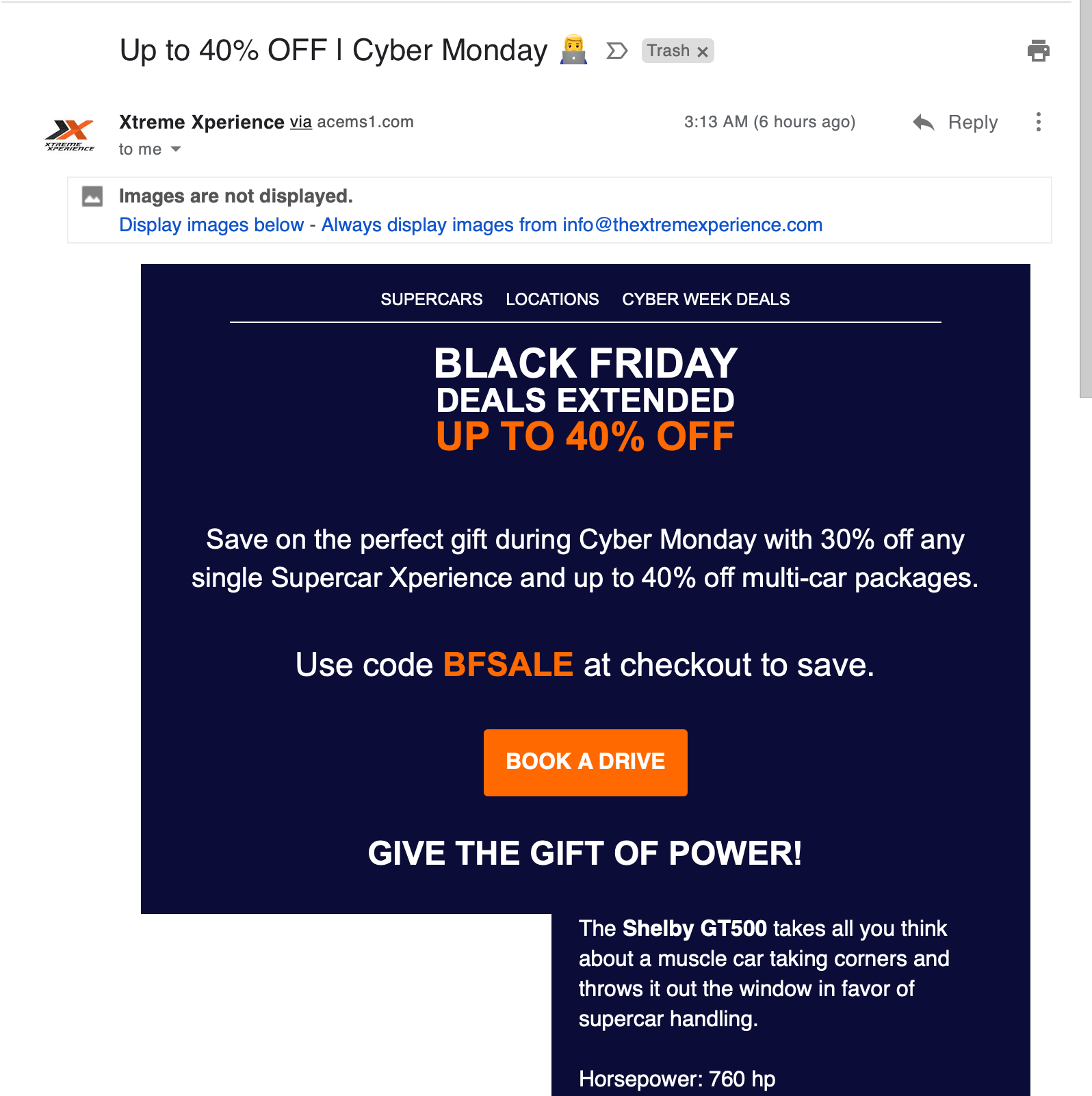 Note that this example from Xtreme Xperience can stand on its own without the images.
Unsubscribe Rates
With the inundation of stuff people receive in their inboxes, if you are not providing something of value, you will likely get unsubscribed by the user. Most people do not spend a lot of time going over promotional email. They quickly scan the subject lines swiping away those message they don't want to view. When they do open an email, if there is nothing immediately that wants them to display the images, your message will get trashed. Keep that up and you'll lose subscribers.
In Summary
When you are designing your email marketing campaigns, be sure that you have the textual content that can stand on its own. If you do include images, be sure that they are there to support the textual content. Just like your website, make sure that the email recipients have a good user experience.
-Michael.